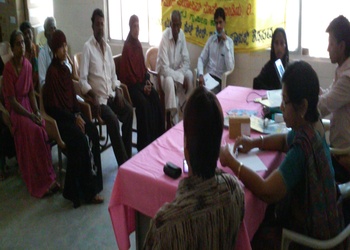 The third OH Program for sericulture workers and their families was organized by AOHK on 22nd February, 2015 at Siddlaghatta.
Spirometry Test was performed for sericulture workers and retired workers.
About 100 persons attended this program and pulmonary function test was done for 58 persons. Counseling was done for all patients.
Pamphlets were distributed for creating awareness on Allergy and Asthma.
Medicines were distributed free of cost to the patients.
AOHK Members, Sericulture industry coordinators and staff members from Richmond Fellowship Society, Siddlaghatta took part in the camp.