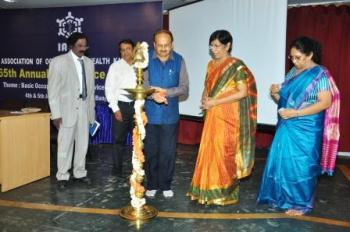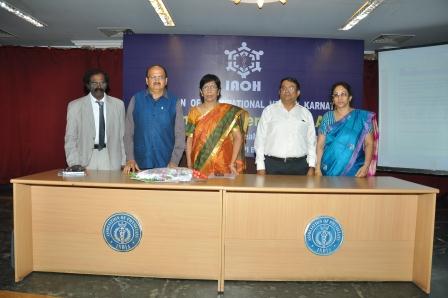 65th annual Conference of Association of Occupational Health Karnataka was held on 4th & 5th July 2015 at API Bhavan, Bangalore.
The Theme of the Conference was Basic Occupational Health Services in Rural Areas.
National President of Indian Association of Occupational Health, Dr. G.V.Prabhu was the Chief Guest and he addressed the gathering on the importance of BOHS.
AOHK past President Dr. V. Raghuraman started the program with the Invocation.Hon. Secretary Dr. M. Thyagaraju welcomed the gathering and presented the Secretary's report for 2014 – 2015.
Dr. Sashikala Chandrasekar, President AOHK presided over the Program. She spoke on the various initiatives taken by AOHK & especially for the sericulture sector workers at Siddhlaghatta.
Dr.Shyam Pingle was awarded the Golden Jubilee Oration Award.Dr. H,C.Anantha Subramania was awarded the Silver Jubilee Oration Award.
The other awardees were Dr. Gautam M.S. – Mohanmal Award,Dr. Chandana – AOHK Award for PG students which was constituted this year for the first time.
Dr. H.R. Raj Mohan, Past President of AOHK addressed the Delegates on the Conference Theme.
Dr. G.V.Prabhu, President IAOH spoke on this year's Occupational Health Day theme.
Representatives of Sericulture Industry from Siddhlaghatta attended the Conference.Mr. Suresh talked about the hazards and issues faced by sericulture workers & thanked AOHK for all the help.
Videos on Global Warming and Hand Mudras were shown in connection with the World Environment Day & International Yoga Day.
Program ended with Vote of Thanks by Dr. Deepa.
Many eminent medical professionals from different corporate hospitals participated in the Scientific sessions of the Conference and talked on various important topics on 5th July.