FOLLOW THE 10 POINTS & RULE 20-20-20
TO AVOID EYE STRAIN WHILE USING COMPUTER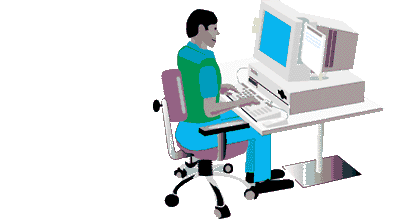 1. Eye to Screen Distance
Keep at least 25 inches distance, preferably more.
2. Monitor Tilt
Keep top of the monitor slightly farther from the eyes than the bottom of the monitor.
3. Screen Colours
Use dark letters on a light background.
4. Vertical Location
Ensure that viewing area of the monitor is between 15° and 50° below horizontal eye level.
5. Lighting
Have ceiling suspended indirect lighting. Use blinds shades & curtains to control outside light & avoid reflection
6. Neck & Arm Posture
Always use chair with arms for arms support. Note that head tilted downwards causes less fatigue than head erect posture.
7. Humidity & Airflow
Avoid direct flow or draft of air on your eyes which makes the eyes dry.
8. Blinking of Eyes
Blink your eyes often.
Tendency to Blink the eyes is more when the head is tilted downwards than when compared to the head held erect or upwards.
9. Exercise for the Eyes
Close your eyes and roll the eyes behind your closed lids on all directions and open the eyes and repeat it.
10. Practise Rule 20 – 20-- 20
Take a short visual break every 20 minutes to avoid strain. Look at something at a distance of about 20 feet for 20 seconds.