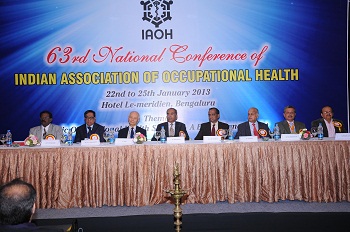 63rd National Conference of Indian Association of Occupational Health was held from 22nd to 25th January 2013 at Hotel Le Meridien, Bengaluru which is known as the Garden City and Silicon City of India. The Conference was hosted by Association of Occupational Health Karnataka. The Theme of the Conference was Basic Occupational Health Services – A Basic Human Right. The Conference served as a platform for learning with sharing the views of many stalwarts in the field of Occupational Health. 375 delegates attended the Conference which was a mega event with updates in the field of Occupational and Environmental Health.
The pre conference workshop held on 22nd on two important topics received overwhelming response which was attended by more than 150 Delegates.
Workshop on Basic Occupational Health Services ( BOHS ) was conducted in association with ICOH in which all the aspects of BOHS were covered extensively by many international and national faculty. As the focus is on BOHS now, this topic generated lot of interest and was discussed with great enthusiasm in detail by the delegates.
Workshop on Noise Induced Hearing Loss focused mainly on patho physiology of NIHL and in particular Industrial NIHL. There was a presentation of the hearing conservation program in a motor vehicle industry. It also included an interactive session of NIHL case studies with audiogram interpretation for the first time with electronic key pads which was well appreciated by all and needs a special mention.
The Inaugural function of the Conference was held on 22nd in the evening. Dr. K.S. Sri Prakash, Vice Chancellor, Rajiv Gandhi University of Health Sciences, Karnataka was the Chief Guest on the occasion. Sri. V.M. Chamola, Director - HR, Hindustan Aeronautics Ltd, Bangalore was the Guest of Honour. Dr. Kazutaka Kogi, President, International Commission on Occupational Health graced the occasion. The Conference Organizing Committee Chairman and President, AOHK, Dr. Anantha Subramanya welcomed the gathering. Dr. G. V. Prabhu, Hon. Secretary, IAOH and Dr. M. Thyagaraju, Hon. Secretary, AOHK presented the annual reports of the Association. Conference Souvenir was released by Dr. M. M. Maiya, Ex Proffessor of Medicine, Bangalore. Dr. M.V.Sreenivasan, National President, IAOH addressed the gathering. Dr. K.S. Sri Prakash, Chief Guest in his speech stressed the importance of Occupational Health. He further gave an assurance to consider restarting of the DIH course at RGUHS, Bangalore. Various Awards of IAOH and AOHK were given by the Chief Guest to all the deserving members. Vote of Thanks was given by Organizing Secretary, Dr. M. Thyagaraju. Inauguration was followed by cultural program and dinner.
The Theme Symposium on Basic Occupational Health Services was held on 23rd morning. Totally there were 30 Scientific Sessions which were sponsored by various organizations. Many topics were covered on Occupational and Environmental Health along with other medical subjects. The various IAOH and AOHK orations on OH topics were very informative and interesting. A unique feature of this year's National Conference was the stand alone free paper sessions. These ensured that occupational health practitioners from India and abroad were provided a special stage to present the work that they have been doing. A total of 49 papers were accepted for presentation in 4 different sessions. The presenters had the opportunity of facing full halls and fielded a number of questions from the audience.
The banquet and music program was arranged outside the venue at Royal Orchid Resort on 23rd evening. The Annual General Body Meeting of IAOH was held on 24th evening when the new office bearers of IAOH under Dr. C.S. Gulvady as President took charge. After AGM, delegates were treated with a music program and dinner at the conference venue.
Stalls were put up by the medical / pharmaceutical companies at the venue for the benefit of the delegates. Conference ended with the valedictory function on 25th noon.
Principal sponsor of the Conference, Hindustan Aeronautics Ltd, Bangalore and the co sponsor, Hindustan Unilever Ltd, Mumbai along with many other organizations made it possible to conduct a successful and fruitful conference by AOHK which will be remembered for a long time by all the delegates.