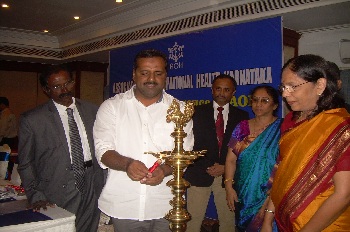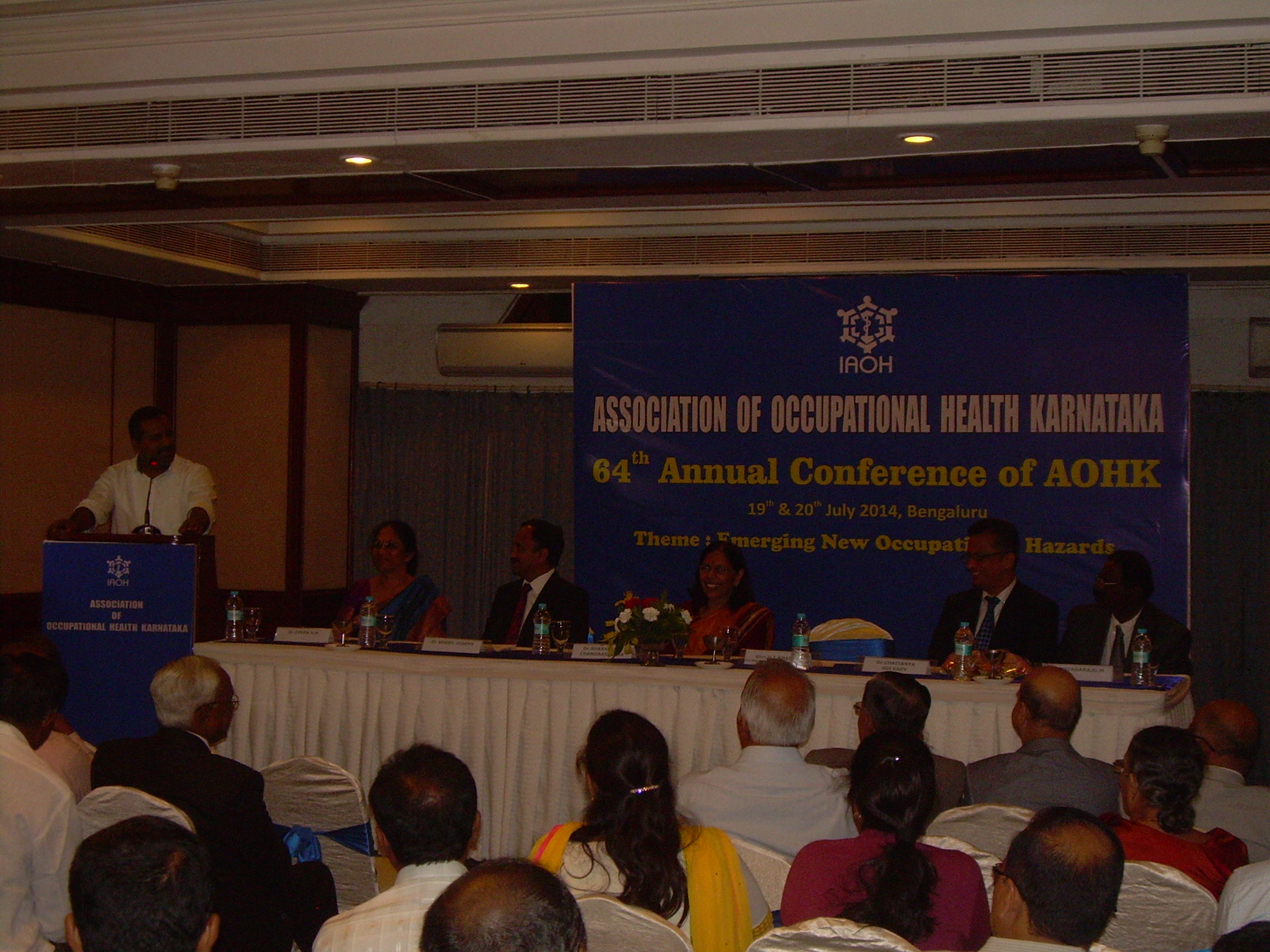 64th Annual Conference of Association of Occupational Health Karnataka was held on 19th & 20th July 2014 at Hotel Chancery, Bangalore. The Theme of the Conference was - Emerging New Occupational Hazards. Hon. Minister for Health & Family Welfare, Government of Karnataka, Shri. U.T. Khader Inaugurated the Conference on 19th July and addressed the gathering. Hon. Minister insisted on the importance of preventive and safety measures to be taken up with respect to the hazards the workforce face in the workplace.
Dr. Raghuraman, Ex President, AOHK started the Inaugural program with the Invocation, which was followed by Welcome address by Vice President, Dr. Bobby Joseph. Hon. Secretary's report for 2013 – 2014 was presented by Dr. M. Thyagaraju.
President of Indian Association of Occupational Health, Dr. Chaitanya Gulvady and President of Association of Occupational Health Karnataka, Dr. Sashikala Chandrasekar addressed on the occasion.
The following awards were given by the Hon. Minister to the awardees.
Golden Jubilee Oration Award – Dr. Om Prakash, eminent Chest Physician & emeritus Professor, St. Martha's Hospital, Bangalore.
Silver Jubilee Oration Award – Dr. N. M. Suresh, CMO, ITI Hospital, Bangalore.
He also received Sri Anantharamakrishnan Memorial Award.
Shri Mohanmal Award – Dr. B. Ramakrishna Goud, Addl.Prof, Com. Med, St. John's Medical College, Bangalore.
Dr. Mahadevan Memorial Award – Dr. Balaji S.Lakshmipuram, IBM, Bangalore.
Shri. Manjunatha Nayak Award (for undergraduate student)–Ms. Sabha Ahmed, KIMS,
Conference was attended by many delegates from different industries and corporate sector and also by postgraduate and undergraduate students.
Many eminent medical professionals from corporate hospitals spoke on 20th July. They covered important subjects like Occupational Health, NCDs, MSDs, etc.
Golden Jubilee & Silver Jubilee Orations were given by the awardees.
Talk on the Theme subject was by Dr. Chaitanya Gulvady, President, Indian Association of Occupational Health & Vice President- Medical, Siemens Ltd, Mumbai. His talk on Emerging New Occupational Hazards was very informative.