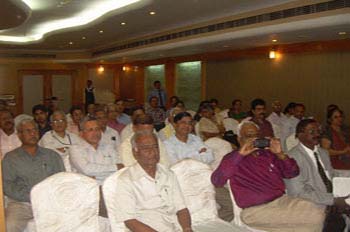 A CME was arranged on 15 th June 2013 at 7.30 PM in connection with the" World Environment Day " on 5th June & " World No Tobacco Day " on 31st May at Hotel Le Meridien, Bangalore.
This was the first meeting conducted by AOHK, after taking over by the new Executive Committee.
Dr. M. Thyagaraju, Hon. Secretary, AOHK welcomed the gathering.
The meeting was presided over by Dr. Sashikala Chandrasekar,
President – AOHK.
To start with, a short documentary on " Global Warming " was screened, which was appreciated by all.
It was mentioned in the meeting that the Members of AOHK will support this cause in all manner possible to the benefit of the working population and the general public for a Low Carbon future.
The meeting was sponsored by Narayana Health Hospitals & the faculty from the Hospital took part in the program.
Dr. N. Diwakar Goutham, Neuropsychiatrist spoke on
" Smoking Cessation at Work place ".
Dr. M.S. Sandeep, Medical Gastroenterologist spoke on
" Occupational Health from a GI perspective ".
Both the topics generated lot of interest and it was a highly interactive session.
Mr. K. M. Sandeep, GM, Marketing briefed on the facilities available at the Narayana Health Hospitals.
The meeting ended with Vote of Thanks by Dr. Deepa, Treasurer.