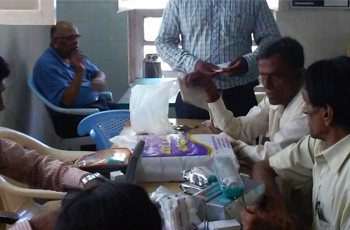 Awareness program on occupational asthma for sericulture workers was organized by AOHK on 26th October 2014 at Siddlaghatta.
This was a follow up program for the sericulture workers by AOHK. OH survey of the work place was conducted earlier by AOHK Members.
A preliminary walkthrough survey of the following areas was done – Silkworm and Cocoon Rearing centre, Cocoon Trading centre, Grainages where cocoons are stored and Silk thread Reeling Centre.
Pamphlets on Allergy and Asthma were distributed to everyone who took part in the camp and preventive aspects were emphasized.
Spirometry Test was performed for sericulture workers and retired workers who were engaged in the silk industry earlier. About 100 persons participated in the camp and Lung function Tests were done for 64 persons. Patients were given medicines / inhalers free of cost.
Sericulture industry coordinators and Staff members of The Richmond Fellowship Society at Siddlaghatta and AOHK Members Dr. G.S. Palaksha & Dr. Sashikala Chandrasekar took part in the camp.