CME on 21st December 2013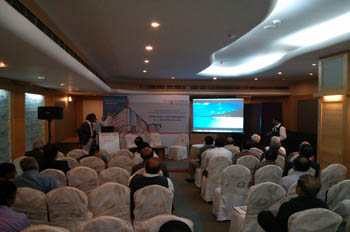 AOHK in association with BGS Global Hospitals, Bangalore arranged a Scientific program on 21st December, 2013 at Hotel Le Meridien.
Dr. N.K. Venkataramana, Vice Chairman of BGS Global Hospital and Chief Neurosurgeon & Director, Global Institute of Neurosciences spoke on a very important topic "Head Injuries in Work Place". It was a very informative lecture covering all the important points which have to be followed in an emergency at the workplace or outside.
A video presentation on the National Conference of Indian Association of Occupational Health in Feb 2014 at Goa was arranged for the benefit of AOHK Members and all the Members were requested to register in large numbers from Karnataka to make the Conference a big success.
Mr. Ravishankar Rao, General Manager, Marketing, BGS Global Hospitals welcomed the gathering.
The meeting was presided over by President of AOHK - Dr. Sashikala Chandrasekar.
Meeting ended with Vote of Thanks by Dr. M. Thyagaraju, Hon. Secretary - AOHK.